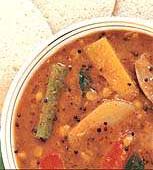 Cooking Time : 15 min.
Preparation Time : 20 min.
Serves 4 to 6.
Ingredients

For the sambhar
1 cup toovar dal (arhar)
1 tomato, chopped
1 onion, chopped
2 brinjals, cubed
1 drumstick, cut into 4 pieces
1 potato, peeled and cubed
1 tablespoon tamarind pulp (imli)
salt to taste


For the tempering

1 teaspoon mustard seeds
6 curry leaves
1/4 teaspoon asafoetida (hing)
2 tablespoons oil




Method
1. For the sambhar masala
2. Heat the oil and roast all the ingredients for the sambhar masala in it.
3. Grind to a fine paste in a blender using a little water. Keep aside.

How to proceed
1. Wash and pressure cook the dal, tomato, onion, brinjals, drumstick and potato with 2 cups of water.
2. Then add the tamarind pulp, sambhar masala, salt and 4 cups of water and bring to a boil.
3. Prepare the tempering by heating the oil and frying the mustard seeds, curry leaves and asafoetida until the mustard seeds crackle. Add this to the sambhar and simmer for 15 minutes.
4. Serve hot.
For the sambhar masala

6 to 8 red chillies
1 tablespoon coriander seeds
1 teaspoon fenugreek seeds (methi)
1 tablespoon toovar dal (arhar)
1 tablespoon split Bengal gram (chana dal)
1 tablespoon split black gram (urad dal)
1 teaspoon turmeric powder (haldi)
1/2 teaspoon asafoetida (hing)
1 teaspoon oil