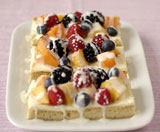 INGREDIENTS:
3½ cups flour
1½ cups butter or margarine
1 cup sugar
1 cup almonds
1 cup cashew
1cup candied fruit peels
2 eggs
2 tbsp thick cream
½ cup honey
1 tsp vanilla essence
½ tsp grated lemon peel
1 pinch salt
Method :
Beat 1 cup of butter with ½ cup of sugar.
Add the eggs to this and beat till it becomes light and fluffy. Then add lemon peel.
Mix flour and salt to this batter and make a smooth mixture. Pour in a baking dish and level the upper surface properly.
Bake in a pre-heated oven for about half an hour.
Remove from the oven.